Once you identify your target audience, the fun begins because every target audience includes FIVE different types of people. Your marketing plan must include each type. If not, you leave money running off the table.
As you read about these five different types of people, Ask yourself, "How do I make myself visible to these people."
Ok, let's get started. Let's discover the five different segments of your target audience.
First, some people in your target audience don't know you exist and they don't care right now.
They don't feel the need for your service or product right now. They are not searching for you. But at some time in the future they will and when they do, you want them to think of you.
To reach audience segment #1
You advertise in places they are likely to notice you in passing. Facebook ads and Search Engine display ads are examples.
Second, you have people in your target audience who don't know you exist, BUT THEY JUST SEARCHED for you on GOOGLE!  They DO need your product or service, now.
Most business owners I talk to are shocked when I show them how many people searched for their service or product during just the last month. In the old days, people grabbed a big yellow book to perform that sort of, I-need-to-find-a-plumber search. It's different today. (Findings, Feb 2, 2012 … 89 percent of consumers turn to Google, Bing and other search engines to find information about the products, and services they want to obtain.) That percentage continues to grow today. You want to be found by these people.
To reach audience segment #2: Do one or both of these two things:
1) Optimize your website for search engines like Google and Bing. I'm sure you know the term "SEO" and how it stands for search engine optimization.
2) Advertise on the internet. Marketers call the most popular form of online advertising Pay Per Click advertising, or PPC. That means you only pay when someone clicks on your ad.
ACTUALLY, for maximum effectiveness, do both of these. Optimize and Advertise.
The third kind of person in your target audience knows you exist and, they DO care
Your personal and business friends, your customers, clients and your vendors. The KEY  element here…You have the email addresses of these people. In addition, this group can include people who give you their email addresses in response to some promotion, offer or contest.
You have these people's names and email addresses. You may have their geo addresses as well. These people know you. At least they know about you. This is golden my friend. These wonderful people provide your business its most vital, powerful, and fruitful connection to your marketplace.
*Andrew Gilman wrote in the New York Times in February of 2013 that the average American knows 600 people. If he is right, the people connected to you in this way know a lot of people. You do the math. Multiply the number of people on your list by 600!!!
To reach audience segment #3
Send them interesting, helpful, exciting, tips, insights and other things to enjoy via an electronic newsletter. Email reigns still as the most powerful, cost effective way you keep your name in front of this "golden" group of people.
When you want to push sales…send them offers they can't resist in a carefully crafted email campaign.
The fourth kind of person knows you exist AND they WILL connect with you online via Social Media
People who love to connect socially have always occupied the marketplace. Today those people love to connect on Social Media. You might say, "My customers don't mess with Social Media." You might be right, but most likely, some of them do. Do you want to know why I say that?…oh my. Malcolm Gladwell, in his book, The Tipping Point, gives us remarkable insight. He calls these special people, connectors and mavens!
He explains how they are the kind of people who naturally help businesses build their brands. These relationally minded "connectors" know people and they talk to people. If they know you, they talk about you in positive ways. God wired them that way. They get their happies by connecting with people and helping those people connect with each other. They are the kind of people who send you referrals. "Connectors" collect friends like some little boys collect baseball cards. A special breed of people, these people are the kind of people who hang out on Facebook and other Social Media! Read "One Compelling Reason Your Company Wants Facebook Fans."
To reach audience segment #4
Build an engaging, active presence on line. This is not just HYPE. It's as real as people are. People do talk online. You just have to join the conversation. I'll tuck this in here. I believe that as the paid channels get more and more competitive that the relational channels of Social Media and Email will become more and more important.
The Fifth Kind of Person in Your Target Audience–Friends of Your Friend
This fifth type of person mirrors the first group. They don't know you exist, and are not searching for you or your product right now. HOWEVER, and this is HUGE they are friends of the people who connect with you on your Facebook page.
THIS…makes things possible that didn't exist before the Internet.
When you engage with people on your business Facebook page, there is always the possibility that those people, (friends of your friends) socially two degrees away from you, even three degrees away, will know about it…this kind of market visibility was never possible before Social Media.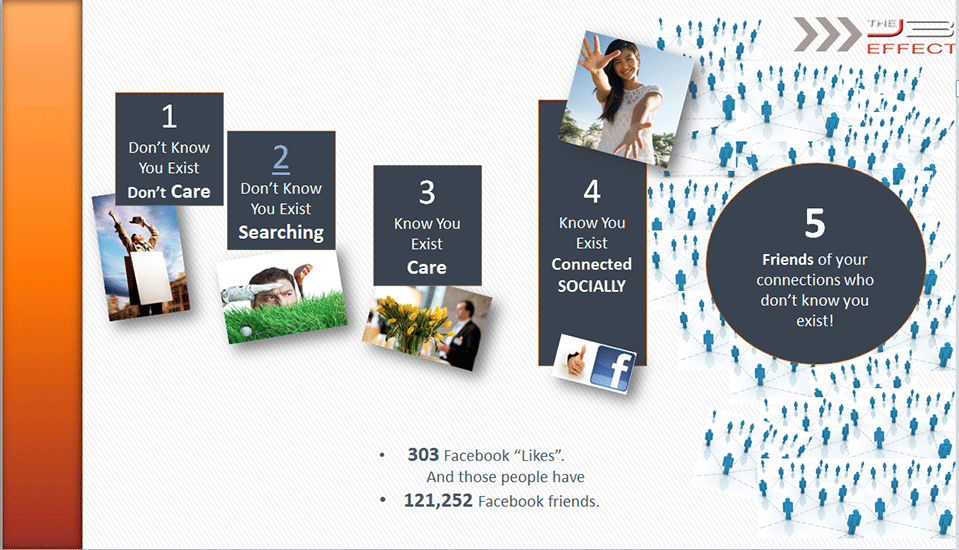 The example above explained: (Numbers provided by Facebook) At one time, our client had 303 Facebook fans on their business page. Those 303 people were connected to 121,252 other people on Facebook. This looks like opportunity-magnificent and it IS. Here's how it works. When one of your fans "likes" something you post, makes a "comment" about it, or "shares" it, about 400 people potentially see it. These people look just like the people in our first group, they don't know you exist, but notice one MASSIVE difference. They do know your fans and fans influence friends.
To reach audience segment #5
The key to business effectiveness on Social Media is consistent engaging activity on your business Facebook page. You might also conduct contest, or offer valuable free stuff that results in your obtaining new email addresses. Now they are part of your third group and potentially, a business relationship begins to develop.
*The Average Person Knows How Many People
New York Times
Andrew Gilman, Feb 18, 2013