This post is about how to share something on LinkedIn. ALSO, below, there is a bonus insight about the remarkable difference between the purpose of your LinkedIn Homepage and Your LinkedIn Profile. First let's talk about how to share.
Click on "Home" this brings up your LinkedIn Home Page where you:
1) Share something,
2 Upload a photo
3) Publish a post. or
4) See what your connections have shared.
Now – Click on "Share an update.  This opens the "Share box." (See next illustration.)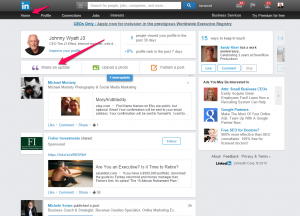 As you See below, this opens LinkedIn's "Share Box." The share box is very powerful
You can type something in that box that you want to share.
You can share a link to almost anything on the internet. (See next illustration.)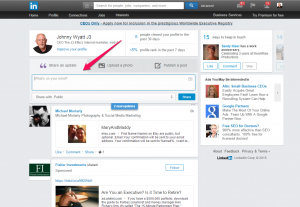 Notice in the "Share Box" box below. You will see the link to a web page. It could be a link to almost anything. One of my clients was featured in one of his trade magazines. He posted the feature on his website. I put a link to his web page in my "Share Box". LinkedIn automatically went out and grabbed the image he used on his website. VERY COOL!!!
Not only can you drop a link into the "Share Box" You can write something you want to say about it as well. (I didn't show  you that here because I want you to go there and try this.)
HINT: I prefer to put my cursor in before the link so that what I write will be seen more quickly.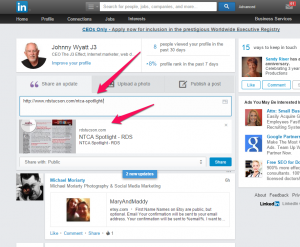 When you are ready, click on the "Share" button. What you have shared is on its way to delight, inform, amuse, and inspire your connections.
NOTICE: Just to the left of the "Share" button you have the opportunity to select your audience. You can share with 1) "Public" or with  2) Just your connections.  WHAT DOES THAT MEAN?
"Just your connections" means your 1st level LinkedIn connections only.
"Public" here refers to your "LinkedIn Public," not THE public in general. And not everyone on LinkedIn, but to specific persons…your 2nd and 3rd level connections. And not all of them even…these folks only when one of your 1st level connections interacts with what you shared in some way.
The Purpose of Your LinkedIn Homepage
When you think about it, this is powerful. The purpose of your LinkedIn Homepage is building relationships. Relationships grow best in the context of connection. People who connect with you and the people they are connected with form a virtual petri dish for future relationship development.
The old adage about how "birds of a feather flock together" comes into play here. The people you are connected with are probably connected with many other people who are also your "kind of folks."
The Purpose of Your LinkedIn Profile
Just for fun, let's take this a little further. As I understand it, LinkedIn uses the word "Public" to mean something much bigger on your LinkedIn profile.
It means anyone on the globe who is searching your keywords while using internet search engines. (To make your profile "Public," go into settings and make your profile "public.")
Can you see how, the purpose of your LinkedIn Profile is searchability.  LinkedIn is important if you want to make yourself professionally findable for 1) Everyone on LinkedIn and 2) Beyond that, for anyone in the world who is searching for someone who does what you do.
LinkedIn is essential for when you want people to "find" you and your business, because LinkedIn is richly searchable….a huge SEO component of your Internet Marketing System
(Just in case: Your LinkedIn profile is that section of the platform where you are able to publish a great deal of  information about yourself.)
Call me, Let's talk about how to make your LinkedIn profile visible to your target audience. (520) 404-1087